Financial Crime Prevention (FCP)
·
Multiple locations
Head of Financial Crime Compliance
Do you want to take on responsibility for financial crime compliance work across all the countries Lunar operates in? Do you want to be part of making sure that you, your colleagues and Lunar in entirety is the best in this field? Then you are just the person we are looking for.

Lunar's mission
Lunar is the future's hassle-free all-in-one place to manage everything regarding money. We are here to make sure our users can handle all their finances anywhere, anytime. We believe that the banking world has become too complex. Therefore, through transparency, convenience, and most of all the feedback from our amazing users, we have set out to define the future of banking.
Tasks & responsibilities
You will be our Subject Matter Expert within Financial Crime Prevention. In this role you will identify, report and follow up on the compliance risks that are related to this area.
You will work closely with the rest of the Compliance team consisting of 6 people, but will also have constant and daily contact with colleagues from different departments and locations across the Nordics. You will therefore get a chance to use your communication skills to help, collaborate and educate your fellow coworkers.
We are spread across offices in Aarhus, Copenhagen, Oslo and Stockholm. Most of the compliance team is located in Denmark, but if you live in Norway or Sweden, this role is still a possibility for you. You will report directly to our CCO, who primarily works from our office in Aarhus.

How do we work?
Lunar is unique in many ways and our work philosophy is no different! We are a collection of awesome individuals with a wide array of backgrounds. The thing that unites us is our sky-high ambitions and flat hierarchy.
Your skills and experience
You have several years of experience working with compliance within the Financial Crime Prevention area and you have a broad understanding of the field.
You want to work in Compliance in the 2nd line of defense and you are excited to take on the responsibility for the compliance work within all the countries Lunar operates in (at the moment Denmark, Norway and Sweden).
You are passionate about what you do and are always looking for ways to improve yourself and the team. So getting the chance to develop your competencies in the leading fintech in the Nordics is something that you cannot wait to be part of.

What's in it for you?
At Lunar, we lean forward. We challenge the status quo, and we empower our employees to be brave, visionary, and persistent. You will not stand alone. You will have an entire group of equally talented people behind your back. You will have the facilities to prosper with state-of-the-art equipment and offices. And last but definitely not least, you will have everything you need to nurture your physical and mental well-being.
Do you wanna be a part of the team?
Speed, innovation, and energy like nowhere else. Can you already feel it? Take the leap and apply for the job now, you won't regret it!
If you have any questions regarding the job, feel free to contact our Chief Compliance Officer, Jonas Leed at jle@lunar.app.
We are looking forward to hearing from you!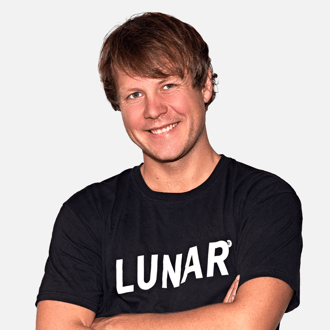 About Lunar
Lunar is a fintech company developing the new norm for everything money to a new generation of users.
We are synergizing with modern users and their lifestyle, and we centre our services around the ones who don't fit into the sharp definitions set out by the traditional banks.

We create the standards of tomorrow and we are proud to be unlike others. We facilitate change, demand progression, and most of all, we empower our users to control their money with maximum efficiency!
We are motivated by rethinking everything money. That's why we're using the latest technologies to create the solution of tomorrow - all available today!
The Lunar app provides a 100% digital way to manage your finances - both personal and business. Over 400.000 users in Denmark, Norway, and Sweden are already using the app, and with 5000+ 5-star ratings on Trustpilot, we have an army of advocates behind us!
Lunar was founded in 2015, since then, we have employed more than 500+ skilled people in: Tech, Design, Business Development, HR, Compliance, Banking, Marketing, Communication, Support, and much more.

That's your cue! Apply now.
Financial Crime Prevention (FCP)
·
Multiple locations
Head of Financial Crime Compliance
Loading application form